Orbit Design, Connecticut, benefit from reliability, energy savings, and quiet operation of Chen Hsong Injection Molding Machines
Orbit Design LLC is a custom plastic injection molder in central Connecticut making plastics injection, compression, and transfer molds for industrial clients. Orbit entered the plastic injection molding business when a customer lacked the technology required to use a highly engineered mold they had designed.
"We bought an Injection molding machine, adopted it for our purpose and soon began making parts"

Ron Oren, President of Orbit Design
Chen Hsong Machines Prove Extremely Reliable
Orbit's injection molding business grew rapidly, and they looked to Chen Hsong when alongside 5 Fixed Displacement Pump Hydraulic injection molding machines they installed a Servo Hydraulic Chen Hsong JM-88 injection molding machine. They were very impressed by its reliability, and its performance in comparison to their fixed pump machines.
"We had the Chen Hsong JM-88 running for 7 years without a service call. Chen Hsong makes very reliable Injection Molding machines"

Ron Oren, President of Orbit Design
Orbit's business continues to expand and in 2018 Oren purchased the latest in the Chen Hsong line – A 185 US ton JM Mark 6.
Most Servo hydraulic injection molding machines on the market regulate pressure by suddenly reversing the pump for fast pressure relief. This can create undue wear to the pump and gradually reduce performance and reliability. The JM Mark 6 series employs a proprietary, patented, and advanced pressure regulation system that ensures fast pressure relief without ever reversing the pump.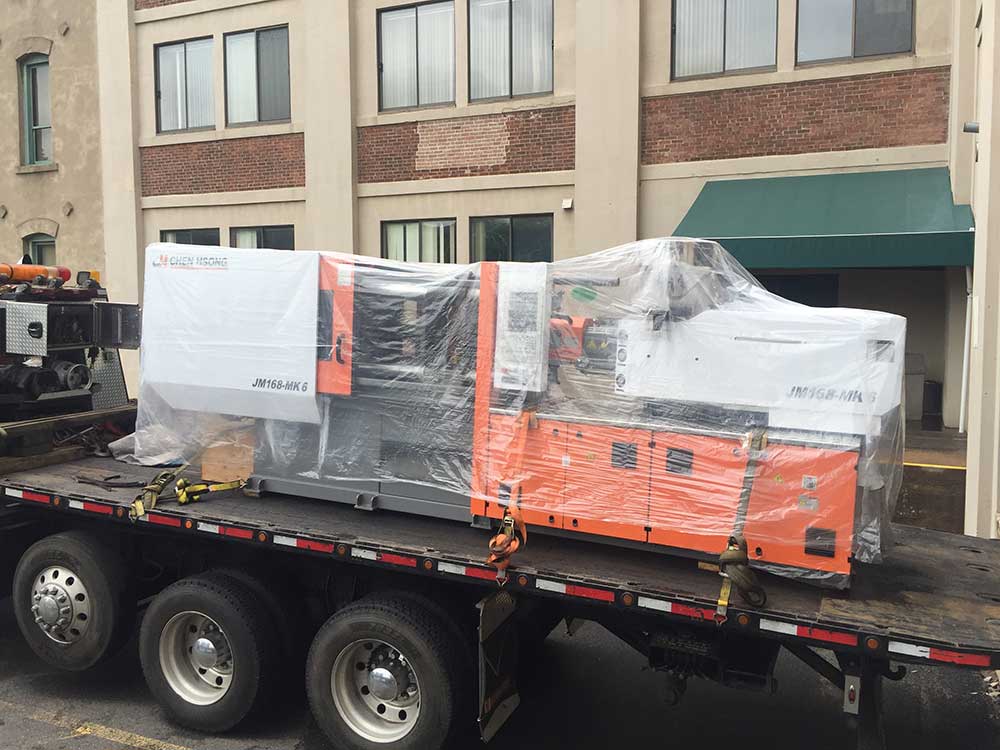 Energy Efficiency Reduces Costs
Oren needed to increase capacity to meet business demands. Because of his positive experience with the Chen Hsong JM-88, Orbit purchased a JM 468-SVP2 injection molding machine with a 515 US ton capacity to enable further expansion. According to Oren when they installed and ran the JM 468-SVP2 he was surprised that there was no increase in his monthly electricity bill.
Chen Hsong Energy efficient Inovance Servo Drives consume less power than other injection molding machines of similar size manufactured by competitors. This can reduce energy costs by 80% when replacing injection molding machines that do not use such advanced technology.
Quiet Operation Exceeds Regulatory Requirements
Oren says he has to go over and check the injection molding machine to see if it is running because "it's so quiet." The JM Mark 6 runs at a decibel level of 75.4dB, which is well below the (NIOSH) recommended worker noise level of 85 dBA.
The Final Verdict
Orbit Design have found ChenHsong machines to be extremely reliable, energy efficient and quiet, and have helped them expand and diversify their company successfully.
About us
Chen Hsong celebrated 60 years in business in 2018, and currently produces over 15,000 Injection Molding machines per year. Chen Hsong Precision hydraulics are an example of the quality of the Chen Hsong JM Mark 6 series used by Orbit Design.
If you would like to benefit from the great performance, prices and support of ChenHsong Machines, please contact CH-America here.